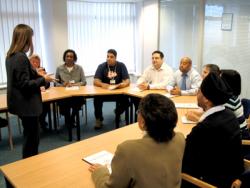 Consultancy, Procurement & Training
Whatever products or services AMTC provides, training and consultancy can be made available to support them.
Consultancy, procurement and training can be used to cover the products or services themselves or the environment, content, operation or objective concerned. All of which can considerably enhance the effectiveness of those same products or services.
At AMTC we believe that the right training is invaluable as a critical insurance element of the investment under consideration and should always be evaluated by the purchaser as part of their budget. It may involve an initial cost but will frequently generate considerable savings at a later date.
The training can often be provided both off the shelf or tailored to the purchaser's requirements. We always recommend that this is considered as part of the procurement process. Please let us know your needs and we will help you find a suitable solution.
Examples of product training:
Features and benefits
Assembly
Maintenance
Operation
Parts & Service Support
Examples of sector training:
Disaster management
Emergency medicine
Farming
Communications
Generally, consultancy will precede training and can involve product and marketing research, but with a focus on project definition and development.