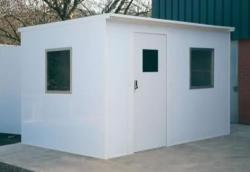 Emergency Shelters
Modular Transitional Shelters
The Modular Transitional Shelter (MTS) unit is a unique and sustainable solution for the challenges of humanitarian disaster relief.
Phase One - The Tent
In the event of a natural disaster the first response is always tents. They are cost effective and easily deployable. However they have a limited effective lifetime of 6 to 12 months. They quickly fall into disrepair due to the adverse effects of:
Sunlight - UV rays weaken the fibres
Storms - high winds rip the fabric
Infestations – small animals can eat their way through the materials
As it can take 5-7 years for a disaster struck village to be rebuilt the local population are left to fend for themselves and create there own shelters from local materials. This results in 'shanty –town' being created which are unhygienic environments adding further to the strain on the humanitarian relief effort.
Phase Two - The Transitional Shelter
The shelter unit is an integrated prefabricated semi-permanent building system which provides all the materials and fixings required to build accommodation for a single or multiple unit personal shelter.
The MTS units can be deployed quickly and easily. Usually dispatched to site 6 months to a year after an area has been hit by a natural disaster. The units have many medium to long term benefits over tents. This long lasting semi-permanent structure will last for 10 – 20 years and will
be used many times over.
Find out more about our range of Modular Transitional Shelters.
Phase Three - Permanent Buildings
Once the area has been stabilised and the rebuilding program for the village has commenced the MTS units will then be replaced permanently by the Modular Flex Building Systems.