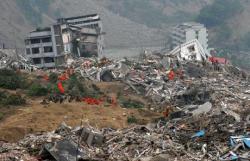 Emergency Response
A coordinated approach to Emergency Response requirements providing Humanitarian Equipment to both Governmental and Civilian Aid Organisations across the Globe.
OUR MISSION
To provide special equipment, training and support to the Military, Police, Oil and Gas, International Aid and Emergency Services customers anywhere in the World.
GROUP ORIGIN
The  Emergency Response Equipment Group was formed following an initiative from the British Government Business Unit of UK Trade & Industry. The initial event held in the UK brought together some 40 companies involved in infrastructure support, expeditionary and humanitarian operations. The need for such an approach was soon recognised by events and unexpected natural disasters and industry-specific catastrophes. It has been recognised that one of the key issues of many natural disasters is the effective communication to the outside world followed by concerns over the basic infrastructure for the region and acute localised population increases caused by these events.
OPERATING CATEGORIES
Power, Communications & Lighting, Pontoons, Barriers & Insulation, Shelters, Medical Supplies & Water Purification, Security & Risk Mitigation, Perimeter Protection, Vehicles, Trackway & Bases.
DIVERSITY OF THE GROUP
The diversity of the Group enables us to supply the widest range of Emergency and humanitarian infrastructure equipment and resources. As a Group we are constantly interacting and looking for new ways to maximise our potential and utilise each other's products to ensure that customer needs are satisfied. This ensures the Group is able to react and adapt quickly to change, maintaining pace with technology and customer requirements.
STRENGTH OF ONE
Together as a Group we are able to provide totally flexible solutions that harness skills to meet individual customer requirements without compromise. Once the requirement has been clearly identified then the key team members are selected. Those members then work through one prime contractor within their group to ensure maximum convenience for the customer, no matter how complex that contract is. This arrangement is important for the customer providing one single point of contact and one single contract.
YOUR "ONE STOP SHOP" FOR:
permanent & temporary shelters : field hospitals : medical equipment : field catering : power (generators and battery systems) : water purification : lighting : barriers : bridges : bases : pontoons : trackway : logistics : specialist vehicles : communications : surveillance : fuel handling : air conditioning : flood protection : survival equipment :